Federal Industries
Display Cases & Merchandisers
Federal Industries is a manufacturer of commercial refrigeration and foodservice equipment, including display cases and merchandisers. They offer a wide range of products designed for commercial use, such as in bakeries, grocery stores, delis, cafes, and other food retail establishments. Additionally, when considering commercial refrigeration equipment, it's important to ensure that the product meets your specific needs and requirements, including size, capacity, and features, as these can vary significantly between different models and brands.
Refrigerated & Non-Refrigerated / Dry Cases
Refrigerated Display Cases are essential for preserving perishable goods and require precise temperature control and humidity management. On the other hand, Non-Refrigerated Display Cases prioritize aesthetics, security, and versatility, making them suitable for showcasing a wide range of non-perishable items. Both types of display cases serve crucial roles in cafes, coffee shops, bakeries, delis, and convenience stores by effectively presenting products to customers while maintaining their quality and visual appeal.
Countertop & Drop-In Cases
Countertop Display Cases are compact, versatile, and suitable for showcasing a wide range of items in limited spaces. They prioritize visibility and accessibility. On the other hand, Drop-In Display Cases are typically integrated into countertops, offer temperature control for food items, and come in various sizes and configurations to meet specific requirements. Both types of display cases are essential for presenting products effectively while maintaining their quality and visual appeal, and the choice between them depends on the intended use and available space.
Self-Service Cases
Self-Service Display Cases are designed to enhance the shopping experience by providing easy access to products while maintaining their freshness and quality. They come in various sizes, styles, and configurations to meet the specific needs of different businesses, whether they are selling food, merchandise, or other items. These cases play a crucial role in attracting customers, promoting sales, and streamlining the shopping process. Self-Service Display Cases are widely used in various industries, including food service, retail, and hospitality, to allow customers to access products without the assistance of staff.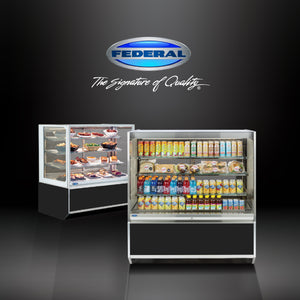 Federal Industries
Italian Series
Bakery & Deli Display Cases — In-Stock!
Special Pricing
Federal Industries ITD4834
Italian Style 48" Countertop Dry Bakery Display Case — In-Stock!
Shop Now!
Special Pricing
Federal Industries ITR4834
Italian Style 48" Drop-In Refrigerated Bakery Display Case — In-Stock!
Shop Now!
Special Pricing
Federal Industries ITRSS4834
Italian Style 48" Self-Serve Drop In Refrigerated Merchandiser Display Case — In-Stock!
Shop Now!
Federal Industries is recognized as a reputable brand for merchandise display due to several key factors...
Quality Craftsmanship: Federal Industries is known for its high-quality construction and durable materials, ensuring that their display cases are built to last in commercial settings.
Aesthetic Appeal: Their display cases often feature attractive designs and crystal-clear glass panels, enhancing the visual appeal of products and enticing customers.
Customization: Federal Industries offers a range of display case options with customizable features, allowing businesses to tailor the units to their specific needs and products.
Temperature Control: Many Federal Industries display cases come equipped with precise temperature control, helping to keep perishable items fresh and safe for consumption.
LED Lighting: Integrated LED lighting enhances product visibility, creating an appealing presentation that draws customers in.
Versatility: Their product lineup covers a wide range of applications, from bakery and deli items to refrigerated, heated, and ambient displays, catering to diverse retail needs.
Reliability: Federal Industries has a strong reputation for producing reliable and consistent performance in their display cases, earning the trust of businesses worldwide.
Ease of Use: User-friendly features, like easy access sliding doors and adjustable shelving, make their display cases convenient for both customers and staff.
Durability: The use of stainless steel frames and components ensures long-lasting durability, even in high-traffic commercial environments.
Support: Federal Industries often provides comprehensive customer support and warranty options, giving businesses peace of mind when investing in their products.
These factors make Federal Industries a preferred choice for businesses looking to showcase their merchandise effectively, maintain product quality, and create an appealing shopping experience for customers.